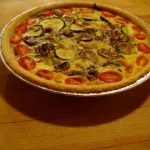 Good morning! In our continuing efforts to lose 2-5 lbs a week and trying to make weight loss delicious and easy I have 2 more yummy recipes for you. The first is great for breakfast and even a snack and the second is for blueberry muffins that make a nice treat especially for a cheat meal. Enjoy!
Venice Frittata*
This is a is a great recipe for breakfast or even to have as a delicious snack.
Ingredients:
Cooking spray
1 medium onion, sliced thin
1⁄2 cup baby spinach
2 cups Egg Beaters
1 tsp gluten-free Dijon mustard
2 Tb 2% milk
1⁄2 tsp salt
1⁄4 tsp pepper
2 Tbsp brown rice flour, or use a premade gluten-free flour blend like those sold by Bob's Red Mill
4 oz low-fat shredded Swiss cheese
Directions:
Preheat oven to 350 degrees
Spray a medium skillet with cooking spray and sauté onion until light brown, stirring occasionally. Add baby spinach and sauté spinach until wilted and any additional liquid in the pan evaporates.
 Spray a 10-inch casserole pan with cooking spray.
 Whisk together Egg Beaters with Dijon mustard, 2% milk, salt, and pepper, and pour in casserole dish. Top with spinach mixture. Mix Swiss cheese with flour and sprinkle over the top.
 Bake for 35–45 minutes until set through; cut into quarters and serve.
makes approximately 4 servings
Nutritional information: 151 calories, 21.6 grams protein, 11.3 grams carbohydrates, 1.8 grams fat, 10.5 milligrams cholesterol, 499 milligrams sodium, 1 gram fiber, 360 milligrams calcium, 3.2 milligrams iron.
Tip: Egg whites or other egg substitute can be used in place of the Egg Beaters. Also, chopped cooked broccoli works well in place of the spinach, and low-fat cheddar in place of the Swiss.
Blueberry Crumb Muffins*
These are so delicious and you can freeze extras so you can take them out when you need them. Any berry can be used in this recipe.
Ingredients:
 1⁄2 cup white rice flour
1⁄2 cup brown rice flour
1⁄2 cup tapioca starch
1⁄2 cup sorghum flour
1⁄4 cup granulated sugar
2 tsp baking powder
1⁄2 tsp baking soda
1 tsp xanthan gum
1⁄4 tsp salt
1 tsp lemon zest
2 eggs
1⁄2 cup plain low-fat yogurt
1 cup low-fat 1% milk
4 Tb melted butter, divided in half
2 cups fresh or frozen blueberries
2 Tb brown sugar
1⁄4 cup almond flour
1⁄4 cup white rice flour
1⁄4 tsp nutmeg
Directions:
Preheat oven to 400 degrees. Line a 12-cup muffin tin with paper muffin cups.
 Mix all dry ingredients (flour through lemon zest) in a large mixing bowl.
 In a separate bowl, beat together eggs, yogurt, milk, and 2 tablespoons of the melted butter.
Make a well in the center of the dry ingredients. Pour in wet ingredients and stir until just combined.
Stir in blueberries. Divide batter evenly among the 12 prepared muffin cups.
In a small bowl, use a fork to mix together brown sugar, almond flour, white rice flour, nutmeg, and remaining 2 tablespoons of melted butter.
Sprinkle crumb mixture evenly over the 12 muffins.
Bake for 25 minutes or until a toothpick inserted in the middle comes out clean.
Makes 12 servings.
Nutritional information per serving: 209 calories, 4.6 grams protein, 36 grams carbohydrates, 6 grams fat, 47 milligrams cholesterol, 174 milligrams sodium, 72 milligrams calcium, <1 milligram iron.
Tips: These muffins are best served warm with butter or jelly. Freeze any left over muffins so you can have delicious muffins whenever you want them.
I hope you enjoy these recipes.
If you need help with your weight loss please call us to schedule your free consultation
at 215-821-7336
*Recipes are taken from the book "gluten free hassle free by Marlissa Brown, RD CDE"