Thursday, 08 September 2016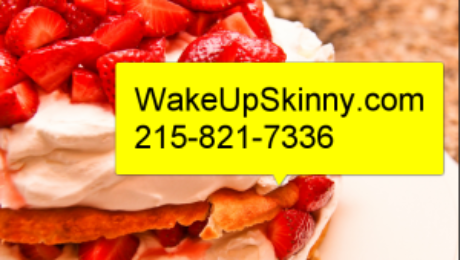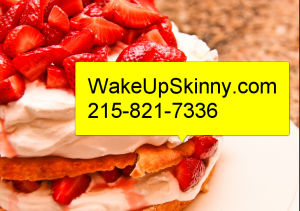 In our Philadelphia Medical Weight Loss Center we know that starvation diets and totally  cutting out certain food groups are not the healthy ways to losing weight and keeping it off. That's why we use a sensible eating plan in our weight loss program. Along with our diet weight loss pills and appetite suppressant medications we teach you how to make the right food choices. And if you want to enjoy a piece Berry Shortcake or even a piece of cheesecake you can.
Here are 2 great recipes that you can eat while on our weight management program. I hope you like them as much as I do.
*Berry Shortcake
Ingredients:

Reduced-fat biscuit and all-purpose baking mix- 2 cups

Sugar- ¼ cup

Grated orange rind- 1 tbs

Low-fat milk- ⅔ cup

Orange extract- 2 tsp

Assorted berries (raspberries, blueberries, sliced strawberries)- 3 cups

All-fruit strawberry spread- 2 tbs

Frozen fat-free nondairy whipped topping (thawed)- 1 ½ cups

Fresh mint sprigs (garnish)
Begin this dessert by heating the oven to 425 degrees. In a large bowl mix together baking soda, sugar, and orange rind. Then stir in milk and 1 tsp of orange extract until a soft dough forms. Get your hands lightly floured and flatten mixture into a non greased 9 in round cake pan. Bake for 15 minutes, Remove cake and let cool. As the cake cools, use a large bowl to mix berries, fruit spread, and remaining orange extract. (Keep some berries aside for garnish). Let stand for 15 minutes. Cut shortcake horizontally in half, placing bottom half cut side up on a plate. Add 1 cup of whipped topping to cake, along with berries. Now place top cake half with cut side down on top of berries. Add ½ cup whipped topping to center of shortcake. Finally, garnish with remaining berries and mint sprigs. Enjoy!
*Fruit Crepes
Ingredients:

Sugar-free, fat-free instant vanilla pudding- 1 package (1 oz)

Nonfat milk- 2 cups

Light pancake syrup- 4 tbs

Sliced strawberries- 1 ½ cups

Blueberries- 1 cup

Raspberries- 1 cup

Ready-to-use refrigerated crepes- 4

All-fruit apricot spread- ½ cup

Confectioners' sugar (for serving)- 1 tsp
Start with using a small bowl to mix together vanilla pudding, milk and 2 tbs of light pancake syrup. Let refrigerate for 15 minutes, or until thickened. Now using a large bowl mix strawberries, blueberries, raspberries and remaining 2 tbs of light pancake syrup. Place your crepes on four different plates, adding ¼ of pudding mixture into the center of each crepe. Now top each crepe with ¼ of berry mixture and roll up. Top with 2 tbs of all-fruit apricot spread and little sprinkles of confectioners' sugar. Enjoy!
So there you have 2 great recipes to enjoy while still losing weight.Enjoy these recipes and if you would like to set up your free medical weight loss consultation call us at 215-821-7336.
*These recipes were taken from Eat what you love and lose by Peggy Katalinich. It is a really great cook book and I really enjoy the recipes. It's a great addition to your cook book library.
Wednesday, 10 August 2016
Hi everyone Dr. Kenny here. One of my super star weight loss patients, Sara, asked if I would post a few low calorie beef recipes that would satisfy her husband's appetite and help shrink his belly at the same time. But they also had to be tasty and satisfy his man-sized appetite. And you know I always do my best to please our wonderful patients so here are a few of my favorite low calorie beef recipes that I think will help trim down Sara's husband's belly and satisfy his hunger at the same time.
If you would like more low calorie recipes for specific foods just let me know next time you come in. And if you have not been in our office yet call us and set up your complimentary consultation at 215-821-7336.
Beef Tenderloin with Roasted Wild Mushroom Sauce*
Ingredients:
Whole beef tenderloin (trimmed and tied)- 1

Olive Oil- 1 tsp

Salt- ¾ tsp

Black pepper- ½ tsp

Cloves garlic (finely chopped)- 2
Mushroom sauce:
Assorted mushrooms (cremini, shiitake, oyster) (tough stems removed and caps sliced)- ¾ lb

Large shallot (finely chopped)- 1

Clove garlic (finely chopped)- 1

Dry sherry- 2 tbs

All-purpose flour- 2 tbs

Beef broth- 1 can

Fat-free half-and-half- ⅓ cup

Fresh tarragon (chopped)- ½ tsp

Salt- ⅛ tsp

Black pepper- ⅛ tsp

Hot cooked egg noodles- 8 cups
Start by preheating the oven to 425 degrees. While you wait, rub olive oil, salt, pepper, and chopped garlic over all sides of meat. Put in large roasting pan, roast for 45 minutes. Remove and let sit for 10 minutes with foil. As you let that sit you can start your sauce by putting mushrooms and shallot in a large nonstick skillet and cook over medium heat for 10 minutes. Add in garlic and sherry, cook 1 minute. Sprinkle flour over sauce and stir for a minute. Stir beef broth into mushroom mixture, cook till boil or until sauce has thickened. Mix in half-and-half, tarragon, salt, and pepper. Heat through then remove. Slice tenderloin and serve with egg noodles and pour mushroom sauce on top. Enjoy!
Pepper Steak with Teriyaki Sauce*
Ingredients:
Boneless sirloin steak- 1

Coarse black pepper- 1-2 tsp

Olive Oil- 2 tsp

Onion (chopped)- 1

Sweet red pepper (cored, seeded, cut)- 1

White Mushrooms (thinly sliced)- ½ lbs

Bottled teriyaki basting sauce-and-glaze- ½ cup

Fresh lemon juice- 1 tbs

Steak drippings or water- 2-3 tbs
Begin by heating the broiler and seasoning the steak with black pepper. Broil steak for 12-15 minutes, turn over once halfway through. Let stand for 10 minutes (keep pan drippings). As you let the steak sit heat oil in a nonstick skillet over medium heat. Add in onion and red pepper, cook and stir for 3 minutes. Change the heat to high, proceed to add in mushrooms and cook for 6 minutes. Mix in teriyaki sauce, lemon juice, and pan drippings or water. Bring to a simmer then remove from heat. Cut up the steak and pour sauce on top. Enjoy!
Wine-Marinated Grilled Sirloin*
Ingredients:
Dry red wine- 2 cups

Water- 1 cup

Red onion (finely chopped)- 1

Worcestershire sauce- 3 tbs

Chili powder- 2 tsp

Dried oregano- 1 tsp

Liquid hot-pepper sauce- ½ tsp

Boneless sirloin steak (3 lbs)- 1
Chili-Horseradish Glaze:
Bottled chili sauce- 3 tbs

Dry red wine- 2 tbs

Bottled grated horseradish- 1 tbs

Salt- ½ tsp
Lets begin by using a medium sized bowl and mixing together wine, water, onion, Worcestershire, chili powder, oregano, and pepper sauce. Put steak in baking dish and pour marinade over top. Refrigerate for 4 hours. Make the glaze by using a small bowl and mixing the chili sauce, wine, horseradish, and salt. Set aside when done. Set heat on grill to high and cook steaks for 4 minutes, turn over and cook for another 2 minutes. Spread glaze over steak and cook for 5 minutes. Let cool for 10 minutes then slice meat into thin slices. Enjoy!
So there you have it some of my best low calorie recipes. Come back in a few days for more weight loss tips and recipes.