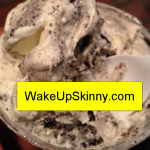 I hope everyone is enjoying this Holiday season. Today I am giving you a delicious recipe that I have been sharing in the office with our weight loss patients. It's a quick and easy cheese cake recipe that takes lees than 10 minutes to make. It's low carb and ketosis friendly.
My Favorite Quick and Easy Low Carb Cheesecake
Full fat cream cheese – 1 cup 

Heavy whipping cream – 1 cup

cinnamon – 1/2 teaspoon

vanilla extract – 1 tablespoon

swerve – 1/4 cup 

Optional ingredients: 12 blueberries or 3 tablespoons of chopped dark chocolate at least 85% .
Directions: Place all of your ingredients except for the chocolate and blueberries in a bowl and mix everything until the mixture is combined nicely. Then, just spoon out your cheesecake batter into glasses. Next place 3 blueberries over top of the batter or break up your chocolate and sprinkle it over top and then you can store it in the refrigerator by just covering each glass with plastic wrap. This delicious treat should last up to four days in the refrigerator. This recipe makes about four servings each of them has approximately 5 g of carbohydrates and about 6 g of protein. If you add the blueberries you are adding additional fructose.
So there you have it. A quick and easy recipe for a scrumptious treat.
If you or someone you know and love need help losing weight and improving their health and wellness just call us and schedule a weight loss consultation. Call us at 215-821-7336 and schedule your consultation now.