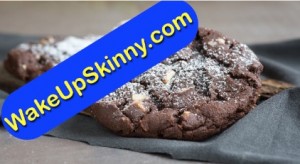 If you are one of our weight loss patients you know that we are one of the most affordable Philadelphia medical weight loss centers and that we only use the highest quality weight-loss pills appetite suppressant medications. And that we take great pride in doing our best to help you lose weight and also improve your overall health.  That is why I am constantly updating this website/blog with low-calorie recipes and lots of low sugar or sugar-free desserts.
And nothing makes me happier then when a patient tells me this morning, that in spite of her being diabetic, she has steadily been losing weight on our program; and that a large part of her success has been making these recipes that I post every week. So I thank all of my wonderful patients for inspiring me each and every day to be the best that I could possibly be – so that I can help you be the best that you could possibly be.
Here are 2 more recipes to satisfy the biggest sweet tooth:
Cocoa Gingerbread Cookies*
Ingredients:

Coconut oil or unsalted butter – 1/2 cup softened

1.5 cups of powdered Stevia or any other sugar substitute

eggs – 2 large eggs – beaten

cocoa powder, unsweetened – 3/4 cup

ground cinnamon – 1 tablespoon

ginger powder – 2 teaspoons

Himalayan sea salt – 1/4 teaspoon

vanilla extract – 2 teaspoons

almond extract – 1/2 teaspoon
After you have gathered all of the ingredients preheat your oven to 350°F. Then in a bowl, approximately medium in size, mix the cream, Stevia or other sugar substitute and the butter. You can use a hand-held mixer for this or if you have a stand mixer that's even better. Also you may want to mix together the cream and the butter first and then add the Stevia. After that and your 2 large eggs and mix until they are combined nicely. Then mix in the cinnamon, salt, ginger powder, cocoa powder, vanilla extract and almond extract.
After everything is mixed and combined nicely you will then take this dough in roller into the shape of balls, approximately 2 inch balls. And then place the balls on two ungreased cookie sheets. Make sure you keep about an inch between each of them. Then just bake this for 10 minutes or for as long as it takes for it to be totally cooked. When it's done just take it out of the oven and let it cool down on the cookie sheet before removing off of the sheet.
If you like you can eat them immediately after that or you can keep them in an airtight container in the refrigerator for as much as one week. This recipe normally makes approximately 24 cookies and each one has about 51 cal, 4.7 grams of fat, 1.1 grams of protein, 1.2 grams of carbohydrates and .7 grams of fiber.
Keto-Sugar*
Since almost each and every one of us enjoy a little bit of sweetness especially in our drinks I have been doing my best to find a mixture that would be sweet, delicious and not spike our insulin levels when we consume it. And I have finally found the perfect recipe for this.
The ingredients are:
granulated erythritol – 2 cups

ground cardamom – 2 teaspoons

ginger powder – 1 teaspoon

ground cinnamon – 2 teaspoons

ground cloves – 1/4 teaspoon

Two

 

vanilla beans split and seeds scraped, they should be approximately 6 inches long

Himalayan salt – 1/4 teaspoon
Like I said this is a really phenomenal recipe and I like it because it has a little spice of that chai flavor. Once you have all the ingredients just combine the erythritol, cinnamon, cardamom, cloves, ginger powder, vanilla beans seeds and salt until everything is mixed nicely together. Just store this in an airtight container and make sure that you keep in a dry and cool place and definitely keep a covered. This should  the good for about three months or so. A serving size is considered 2 tablespoons and this has approximately 3 calories, 0 grams of protein, .5 grams of carbohydrates, and 0 grams of fiber.
For your free medical weight loss consultation call us at 215-821-7336.
These recipes are taken from ketogenic cookbook by Jim Moore and Maria Emmerich. It is a wonderful book and I definitely recommend that you take a look at it and add it to your cooking library.