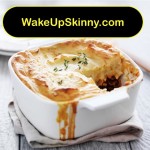 For this new year of 2016 so many of us will have a New Year's resolution of losing weight. So if you are looking to lose weight while eating delicious  and hunger killing meals here are 4 scrumptious recipes that will satisfy your tastebuds and your cravings.
Now this first recipe is definitely one that you will not see in most diet plans but if you are one of our weight loss patients you know that we are nothing like the majority of other medical weight loss programs in the area.  We use only the finest quality weight loss appetite suppressant medications, weight loss pills and tablets and we spend a tremendous amount of time continuing to educate our patients and giving you foods and recipes  that are delicious and will help you achieve your weight loss goals.
One of my favorite meals as a child was my Mom's Shepherd's Pie. Nothing compared to the stuffed tummy and love I felt while eating this. So here is an under 400 calorie recipe for one of my most favorite meals in the world.
Chicken Shepherd's Pie*
2 tablespoons of cornstarch

1 cup of low-sodium chicken broth

3 cups of cooked chicken breast, diced

1 cup of red bell pepper,  chopped

1 cup of red onion, chopped

20 ounces of frozen mixed vegetables

3 cups of mashed potatoes, prepared according to the package directions

½ cup of low-fat cheddar cheese, shredded
Mix the cornstarch with the broth and heat until this is thickened and bubbly.  Stir in the chicken and then place this mixture in the bottom of a 9 x 9" baking dish. Cook the vegetables until almost tender then spread the vegetables over the chicken mixture. Next cover this with the prepared mashed potatoes. And then top with the cheddar cheese. Finally heat under the broiler until the potatoes start to brown and the cheese melts. This makes approximately 6 servings each with about 350 calories.
Fried Chicken Dinner*
1 pound boneless chicken breasts

2 tablespoons of Dijon mustard

4 tablespoons of dry bread crumbs

4 small red potatoes cut into quarters

2 teaspoons of olive oil

4 cups of fresh broccoli florets

¼ cup of honey

2 tablespoons of low-sodium chicken broth or water
We are going to start by creating our oven to 450°F and then coat a large baking sheet with nonstick olive oil spray. Then butterfly the chicken by cutting each piece in half horizontally, slicing it almost through to the other  side but not cutting it completely. Next we open a chicken breast have to make one thin piece. And brush Dijon mustard over both sides. Place the seasoned breadcrumbs in a shallow dish and add chicken breast and turn to coat each side. Then place the chicken onto the baking sheet and spring chicken breast with the nonstick vegetable olive oil spray. We are going to bake this for approximately 8 – 10 minutes until the chicken is cooked all the way through. While the chicken is cooking you're going to place the red potatoes in a microwave  safe container with a lid adding olive oil and toss to coat the potatoes with the olive oil. Then cover and microwave on high for about 5 minutes until the potatoes are tender. Place the broccoli in a  microwave container with  a lid, cover and microwave on high for 3 minutes until the broccoli is crisp and tender. In a small bowl whisk together the hunting and a chicken broth and then place the chicken on individual plates and drizzle the honey mixture over top.  And make sure you serve the potatoes and broccoli as side dishes. This makes 4 servings each with about 395 calories.
Creamy Pasta with Chicken and Vegetables*
10 ounces of whole-wheat linguine or spaghetti

2 tablespoons of olive oil

2 cups of zucchini that are cut into strips

12 ounces of sliced mushrooms

2 cups of broccoli florets

1 cup of chopped onions

½ teaspoon minced garlic

½ teaspoon dried basil

1 cup skim milk

2 cups of cubed and cooked chicken breast

⅛ teaspoon of black pepper

1 cup of sliced roma tomatoes

¼ cup of parmesan cheese
Cook the linguine or spaghetti according to the directions you find on the package. Then in a skillet heat the oil and add zucchini, mushrooms, broccoli, garlic and basil. Stir until the zucchini is crisp and tender, this should take approximately 2 – 3 minutes. Next drain the pasta and return to the saucepan. Stir in the skim milk, chicken, zucchini mixture, and black pepper and then heat thoroughly. Add tomatoes and  cheese – toss everything together and serve. This makes approximately 6 servings each with about 377 calories.
Pasta with Chicken and Broccoli*
¼ cup of olive oil

 2 garlic cloves, minced

½ pounds of boneless skinless chicken breast cut into ½ inch strips

1 ½ cups of broccoli florets

1 teaspoon dried basil

black pepper to taste

¼ cup of white wine

¾ cup of low-sodium chicken broth

½ pound of whole-wheat bowtie pasta cooked

Parmesan cheese
In a large skillet heat the oil over medium heat and sauté the garlic for about one minute starting it constantly. Next we should add the chicken and cook until it's well done. Then add the broccoli and cook until it's Chris and tender then add basil, black pepper to taste, wine and chicken broth. We cook this for about 5 minutes and add the cooked and drained pasta to the skillet and toss to mix everything together. We heat this for about 1 – 2 minutes.  This makes approximately 4 servings with each serving having about 417 calories.
So there you have 4 great comfort food recipes that taste great and will satisfy the biggest appetite and help take inches off your waistline.
If losing weight is one of your New Year's resolution for 2016 I invite you to give us a call for a totally free medical weight loss consultation. Call us now at 215-821-7336 for your Free Weight Loss Consultation
*These recipes were taken from the book "500-400 cal recipes by Dick Logue"  it's a really good weight loss book and I suggest that you purchase it if you are looking for great meals that are under 400 cal.