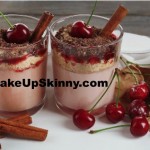 In our weight-loss program it's always our goal to help our patients lose weight safely and as quickly as possible. But we are all human and sometimes we may not follow our nutrition plan as perfectly as we should. Especially when we go on vacation.
And this is exactly what happened to me over these past 2 weeks when my wife and I talk a lovely Caribbean cruise.  
Over the course of our 11 night cruise I gained 6 pounds.  And I know exactly where those 6 pounds came from. They came from the so-called sugar-free desserts that I enjoyed each and every night with my dinner and from the sugar-free lemon cookies that I snacked on throughout the day. Oh, and my wife just reminded me about the amazing baked Alaska dessert that we enjoyed in one of the specialty restaurants where we celebrated our 28th wedding anniversary.
But honestly I have to admit that the baked Alaska was so delicious that it was worth each and every pound. But now that we are back in the real world I am getting back to my normal eating plan. And in about 5 or 6 days I plan get rid of those extra pounds I gained; and get back to my normal body weight.
The only problem is that from my indulging in the deserts for 11 straight nights  My sweet tooth grew back. So to have the best of both worlds –  meaning to satisfy my sweet tooth and help me lose those 6 pounds quickly I have 4 great recipes that are sweet, rich and  two of them are even chocolatey. And I'm going to share them with you now.
Cocoa Puff Fluff
4 ounces of ricotta cheese

1 ounce of heavy whipped cream

1 teaspoon of cocoa powder unsweetened

a sweetener like Stevia to your desired taste

Combine all of the ingredients together and mix thoroughly
Low-Carb Chocolate Mousse
16 ounces of cold heavy cream

2 tablespoons of sweetener like Stevia

1 ½ cups of chocolate chips, unsweetened
Directions:  Let's start by first melting the chocolate chips and when they are melted just put them on the side for a little while. Then we are going to whip the heavy cream until it thickens nicely. And now we add the sweetener, I like Stevia, and the melted chocolate and mix this together for approximately another 30 seconds or so. And there you have a delicious chocolate mousse that is low in carbs and sugar.
Super-Rich Chocolate Mousse – Low-Carb
2 ounces of unsalted grass fed butter

2 ounces of full fat cream cheese – allow it to soften

3 ounces of heavy cream

1 tablespoon of cocoa powder unsweetened

1 tablespoon of Stevia
Directions: combine the butter cream cheese and heavy cream in a mixer and blend until everything is nice and smooth then add the unsweetened cocoa powder and the Stevia and mix until everything is combined nicely. This is a very rich and creamy and one of my favorites.
Ultra – Rich Cheesecake Mousse
8 ounces of full fat cream cheese

4 ounces of heavy cream

4 tablespoons of sour cream

Sweetener: like Stevia or vanilla extract or any type of sugar-free syrup.
Directions:  allow the  cream cheese to soften and then combined with the heavy cream and sour cream in a mixing bowl and blend until everything is combined smoothly. Then add your sweetener slowly while continuing to mix. Then just Enjoy!
And please let's not forget my good old reliable dessert that is totally sugar-free and this is sugar-free Jell-O.  If you have the time you could always make the jell-o yourself it's super cheap and  easy. You just have to boil water add the Jell-O powder to it mix in some cold water stir everything together nicely and then put it in the refrigerator and let everything harden.  
But if you're short on time you can always bite at the supermarket premade. The thing that I like about the pre-made Jell-O is that I could always take it with me from home to the office and have it as a snack at lunch and even carry it from one office to another office and have it as another snack at dinner time. So if you have the time definitely make it yourself because it's very economical and if you don't have time just by pre-made at the supermarket.
And if I am needing something a bit more crunchy I will have a few carrots with that as well. So this takes care of my need to eat something crunchy and sweet at the same time.
I hope you enjoy these recipes as much as I do. It's always our goal to help our patients lose weight by giving them delicious recipes, diet plans in addition to the best diet – weight loss pills and appetite suppressant medications.
If you need help with losing weight just call us for a free weight loss consultation call us now at 215-821-7336.