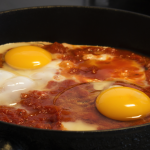 Burn fat and stop your cravings with this delicious recipe. In our goal to have our weight loss patients lose 2 – 5 pounds we are constantly giving you new and delicious fat burning recipe. Here is one of my favorite egg recipes. It is spicy hot so if you would like to decrease the spicy hotness of the recipe you can always decrease the amount of chile and red pepper flakes or you could just eliminate them altogether.
Ingredients:
2 tablespoons extra virgin olive oil

1 medium onion finely diced

1 teaspoon minced garlic

1 red bell pepper seeded and finely diced

4 cups of tomato sauce

2 tablespoons of tomato paste

1 teaspoon ground cumin

1/2 teaspoon red pepper flakes

salt and pepper to taste

5 extra-large eggs

2 tablespoons of chopped fresh flat leaf parsley
Directions:
Preheat the oven to 350°F. Heat the oil in a large heavy frying pan over medium heat. Add onion and garlic and cook stirring often for 5 minutes. Stir the bell pepper and Chile and continue to cook, stirring frequently, until the vegetables are soft and aromatic, this should take about 10 minutes or so.
Stir in the tomato sauce and tomato paste, along with the cumin and red pepper flakes. Season with salt and pepper to taste and caulk, stirring frequently, just until the sauce begins to reduce slightly this should take about 10 minutes. (You can make the sauce and story, covered, in the refrigerator for up to 5 days. Receipt and proceed with making the final dish. In this way you can use only as much sauce as is needed for one or 2 weeks of the time rather than all 5 at once.)
Crack one a good time in your small custard cup. Carefully pour it out each egg into the simmering sauce in even spacing, slightly in from the edge of the pan. Place the final egg in the center.
Transfer to the preheated oven and bake just until the whites are set and the yolk still running, about 12 min Remove from the oven and sprinkle with parsley.
Now all you have to do is enjoy this delicious recipe with your family.
This recipe is taken from the brain grain cook book by David Perlmutter, MD
If you need help with losing weight or improving your health and wellness call us for a free consultation at 215 821-7336