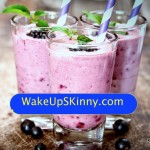 With our Philadelphia Medical Weight Loss Program there is no need to sacrifice and suffer by dieting and not eating during the holidays. SO if you are looking to lose weight and enjoy the holidays here are two delicious recipes that will help you lose weight while enjoying the holidays.
Blueberry CheeseCake Smoothie

2 ounces full fat Philadelphia cream cheese

3/4 cup full fat cottage cheese

1/2 cup of blueberries

1/4 cup of unsweetened nondairy milk – almond or coconut

Stevia to taste

Vanilla extract to taste – I like approx a 1/2 teaspoon

Combine all of the ingredients into a blender and blend until creamy smooth.
Pumpkin Pie Weight Loss Smoothie

1⁄4 cup flax seeds

1⁄4 cup heavy whipping cream

1⁄4 cup of unsweetened almond milk

1⁄4 cup unsweetened pumpkin purée

1 tablespoon powdered Stevia

6-9 drops of liquid Stevia

1⁄2 teaspoon pumpkin spice mix

Blend everything together then refrigerate for at least 20 minutes.
I hope you enjoy these recipes and they make your holiday season a bit sweeter. If you need help with losing weight – call us and schedule your FREE Medical Weight Loss Consultation in our offices located in Philadelphia and Bucks County. 215-821-7336
Call 215-821-7336 and set up your FREE Consultation now.