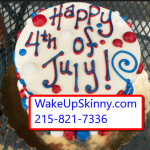 It's Saturday morning July 1st and yes we are in the office seeing people. Helping everyone achieve their weight loss, health and fitness goals. So many people came into the office today telling me how much they enjoyed the sushi recipe that I recently posted.
So I have decided to post a few more recipes today that are Paleo and Vegan-friendly and also quick and easy to make. Two of the recipes I am posting are for a Caesar dressing and for guacamole. These two recipes are loaded with great tasting vegetables and spices and personally I think they taste better than the store-bought versions. And they are definitely more healthy for you. I'm also going to give you the recipes for Honey Drizzled Romaine Lettuce Wraps and Ashley's Super Salad.
These recipes taste fantastic and they are all paleo and vegan friendly. And if you are not following a Paleo or vegan diet it doesn't matter because these recipes just taste so good and as an extra bonus they will help you lose weight.
If you are new to our website and would like more information on our medically supervised prescription weight loss program just call us at 215-821-7336 and Lisa would be more than happy to schedule your weight loss consultation.
And now here are the recipes:
Honey Drizzled Romaine Lettuce Wraps
Romaine lettuce leaves – 5 large romaine lettuce leaves

Raw almond butter –  5 tablespoons of raw almond butter

Honey – 3 teaspoons of raw honey
This is a super simple easy and delicious recipe to make. Just take 1 tbsp of the almond butter and spread it all over your lettuce leaf and take ½ Teaspoons of the raw honey and poured over top and then just roll up the leaf and enjoy.
Ashley's Super Salad Recipe
Romaine lettuce – ½ pound

Grape tomatoes – 1 cup sliced in half

Raisins – 1 cup

Apple – 1 large apple – diced

Scallions – 3 tablespoons of chopped scallions

Chives – 2 tablespoons of chopped chives

Red or yellow pepper – 1 large chopped and diced

Cucumber – 1 large cucumber peeled and chopped

Basil – ¼ cup – fresh basil is preferred
Stir all of the above ingredients is a large bowl and serve with your favorite salad dressing.
Caesar Dressing
cold pressed olive oil- ¼  cup

garlic – 2 cloves of chopped garlic

Celery – 4 stalks of celery cut in half

Water – 1/2 cup of water

lemon juice – ¼  cup of fresh lemon juice

Soy sauce  – ¼ cup og low sodium soy sauce

Sweet miso – 2 tbsps

Dates – 5

Pepper – fresh ground pepper to taste
Combine all of the ingredients in an airtight jar and shake well until all of the ingredients are blended nicely. This makes about 3 cups of dressing and it's best to keep it refrigerated for about 5 days.
Guacamole
Avocados – 3 chopped

Limes – squeeze the juice of 2 large limes

Onion – ¼ cup of chopped red onion

Grape tomatoes – 1 cup of grape tomatoes sliced in half

Peppers – either red or yellow ½ cup chopped

Cilantro – chop up ½ buch

Salt to taste

Swerve – ½ tsp

Olive oil – just a little bit – about ½ tsp
Too make this recipe all that you have to do is combine all of the ingredients into a large bowl. If you like you can mash the avocados or just put everything into a Nutribullet or something like that. This recipe makes approximately two cups of guacamole.
So there we have it four great recipes that taste good and will also help you achieve your health and  weight loss goals. I decided to put the Caesar dressing and the guacamole recipe in this post because a lot of new patients have been coming into the practice and for the most part they are eating a good diet but some of the things that most people seem to be getting wrong are the types of salad dressing and dips they are using. And that's why some of my more recent posts have included recipes for diet friendly dressing and dips.
If you, a loved one or co-worker would like more information on our medical weight loss program I invite you to call and speak with Lisa and she will schedule you for a complimentary consultation. Just call us at 215-821-7336 and schedule your visit with us.
Have a great weekend and a Happy 4th of July!